1. Install Aptoide Client in your device
(if it is not yet installed)
To install Applications from Aptoide you need to install Aptoide Client.
1.1 You can use one of the following ways:
- Download aptoide.apk and install it in your phone:
- Or scan this QR code with your Android device: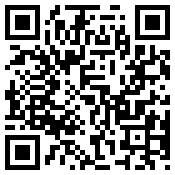 1.2 After the download is complete, go to the notification bar and press de application name (Aptoide.apk) to start installing Aptoide.
1.3 Click in "Install" button to finish Aptoide installation.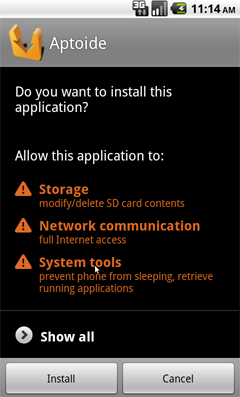 2. Browse through the applications and choose one to install
2.1 Access this application in Aptoide Mobile, by clicking here or scanning the QR Code below.
ThickButtons Keyboard
QR Code


Click the Install button!
Specifications:
Min SDK:
8
Min Screen:
Small
Permissions:
android.permission.VIBRATE
Allows access to the vibrator.
android.permission.RECORD_AUDIO
Allows an application to record audio.
android.permission.ACCESS_NETWORK_STATE
Allows applications to access information about networks
android.permission.WRITE_EXTERNAL_STORAGE
Allows an application to write to external storage.
Description:
== ThickButtons Keyboard ==

Simplicity and efficiency! We believe less is more and that is what makes typing process easy and lightning fast. As you type a word, ThickButtons enlarges and highlights those buttons which you will most likely press and shrinks all the others which reduces the chance of making an error, especially on devices with average screen size.


Ask a question or request help on our Google+ Communityhttps://plus.google.com/communities/105541586845626175384Unlike other keyboards that make you learn new input methods, ThickButtons changes itself dynamically as you type, helping you to improve typing speed, accuracy and make less errors. Save your valuable time and be more efficient with ThickButtons!


Our goal is to save your valuable time, that's why we've developed a set of features that strive for your typing efficiency and simplicity. Each of them is based on predictions and learning users habits. But what exactly makes typing with ThickButtons so fast and efficient? Have a look at these awesome features and you will find out!


== Key Features ==


- Buttons that are most likely to be pressed next are highlighted and enlarged which greatly reduces the chance of making an error.

- Word suggestions based on the frequency of the word usage in specific language and usage of the word by the user.

- Voice input support.

- ThickButtons can learn new words typed by the user.

- Highly customizable button resizing modes. Turn on and off button resizing in portrait or landscape modes, customize the buttons enlargement.


ThickButtons supports the following languages and keyboard layouts (we are currently working on more languages support):


== Languages supported ==


Bulgarian – Българска клавиатура,

Czech -Česká klávesnice,

Croatian – Hrvatske tipkovnice,

Danish – Danske tastatur,

Dutch -Nederlands toetsenbord,

English Keyboard,

Estonian – Eesti klaviatuur,

Finnish – Suomen näppäimistö,

French – Clavier français,

German – Deutsch Tastatur,

Greek – Ελληνικό πληκτρολόγιο,

Hungarian – Magyar billentyűzet,

Italian – Tastiera italiana,

Latvian – Latvijas klaviatūras,

Lithuanian – Lietuvos klaviatūros,

Norwegian – Norsk tastatur,

Polish – Polska klawiatura,

Portuguese – Teclado Português,

Romanian – Român tastatură,

Russian – Русская клавиатура,

Serbian – cyrillic – Ћирилица српска тастатура,

Serbian – latin – Latin srpskoj tastaturi,

Slovak – Slovenská klávesnica,

Slovenian – Slovensko tipkovnico,

Spanish – Teclado en español,

Swedish – Svenskt tangentbord,

Turkish – Türkçe klavye,

Ukrainian -Українськa клавіатурa




== Support ==


To find out how to use ThickButtons and features overview visithttp://thickbuttons.com
0

users LIKE this Android application
0

users DON'T LIKE this Android application
ThickButtons Keyboard
1